Brake Pads
Better Brakes & Advanced Auto Parts stock thousands of Brake Pads in many different brands to suit your requirements.
BENDIX DISC PADS
You can have absolute confidence when you fit Bendix Brake Pads. Bendix uses its worldwide resources to manufacture premium quality disc pads designed and tested for Australian conditions. Bendix offers one of the widest ranges incorporating the latest technological innovations such as the exclusive Titanium Stripe to deliver customers positive pedal feel out of the box and do away with bedding-in to save brake fitters valuable time.
Bendix General CT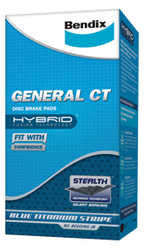 Bendix General CT brake pads are general purpose brake pads suitable for passenger vehicles in suburban, city and freeway driving. They feature the exclusive time saving Titanium Stripe and Ceramic Technology for superior noise, vibration and harshness control.
Bendix Heavy Duty
Bendix Heavy Duty brake pads are a multi-purpose brake pad specially formulated to deliver heavy duty performance for all load carrying situations. Featuring the exclusive time saving Titanium Stripe, they deliver positive pedal feel from the moment you drive out of the workshop.
The pads also feature a specially formulated insulation layer between the friction material and the backing plate for cooler braking and longer wear life. Choose Bendix Heavy Duty for ute's, courier vans and pickups and wherever you have heavy duty towing or load carrying situations.
Bendix Ultimate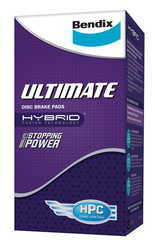 Bendix Ultimate brake pads are specially formulated to offer high friction, high temperature tolerance and a measurably better performance across a range of high performance braking conditions.  They have exceptional stopping power with shorter stopping distances and resist brake fade at high temperatures.
Choose Bendix Ultimate for supreme braking confidence for sports, performance and prestige vehicles.
Bendix 4WD
Bendix 4WD brake pads are specifically designed for 4WDs and SUVs for on road cruising and extreme off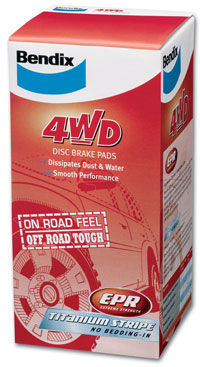 road conditions.  Featuring the exclusive time saving Titanium Stripe, they deliver positive pedal feel from the moment you drive out of the workshop.  The pads also feature EPR for extra strength, higher friction and greater heat resistance. Choose Bendix 4WD for confident performance under all conditions.
Bendix SRT
Bendix Street Road Track brake pads are designed to suit sports and performance car enthusiasts for high speed driving applications. They have been developed by one of the world's leading high performance friction material manufacturers incorporating the latest technology and extensively tested under extreme conditions. The rear of the pad also features a gasket for reduced noise and increased heat resistance.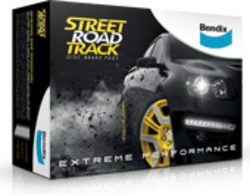 Street Road Track adjusts to your driving style, so you don't have to adjust to the style of your brakes. They deliver consistently brilliant braking, with high tolerance, low fade, long wear and high friction in all sorts of conditions.
·     The confidence to handle busy, unpredictable driving on the STREET where conditions can change in an instant.

·     The reliability to negotiate mountains with your foot consistently on the brake or cruising the open ROAD with long intervals between braking.
TRW DISC PADS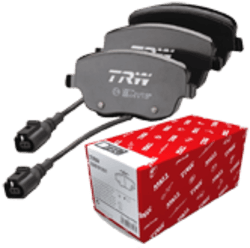 TRW Brake Pads are manufactured by TRW Automotive and have always been the benchmark for the European aftermarket. Also a leading supplier of disc brake systems to vehicle manufacturers including Mercedes, Audi, Volvo, Suzuki, General Motors, Ford, Nissan, Toyota and Mitsubishi.
TRW offer two exceptional ranges TRW European formulation & TRW D-TEC Next Generation
High Standards and Rigorous Testing
Long before official safety and performance specifications were introduced, TRW had established its own test specification to ensure standards above and beyond the demands of the norm. Alpine tests and high speed fade tests are undertaken by TRW's state-of-the-art testing facilities. Pads for Australian vehicles were developed on Australian braking systems and extensively road tested in Australia.
Excellent Brake Performance TRW's stringent performance specifications ensure that all TRW pads have excellent fade resistance in most braking conditions, as well as good pedal feel and excellent recovery. TRW brake pads work when cold and continue to perform at very high temperatures (with a stable friction co-efficient from 100°C to 650°C).
Reduced bedding-in time All TRW brake pads are scorched at 650°C eliminating initial fading and reducing the bedding-in time. The scorching process superficially heats the surface of the friction material to release residual gases and resins remaining after the manufacturing process.
Low Noise All TRW pads are fitted with hot-glued rubber composite shims (or metal/original specification shims if required). This reduces vibration - the major cause of brake noise.
Environmentally Friendly TRW has invested more than USD $100 million to develop an advanced friction compound free from materials such as asbestos, copper, brass, antimono, lead and molybdenum. This ensures environmental responsibility while still maintaining optimum braking performance.
Range
With over 900 references in stock, the TRW range of disc pads is by far the largest single range of disc pads available in Australia.
TRW Disc brake pads can be fitted to any vehicle and will provide the driver with absolute braking confidence in most braking situations. Whether it's a Mini Cooper, a large Ford Falcon V8 or a Toyota Land cruiser, TRW provides "Performance when it counts".
TRW D-TEC Next Generation pads offer great performance, with less residual dust. TRW engineers have undertaken extensive research and development to bring to you a new generation ceramic friction material which delivers significantly less dust along with greater stopping power. Wear rates have been improved to help make this brake pad a great all-rounder with no compromise. 
HAWK DISC PADS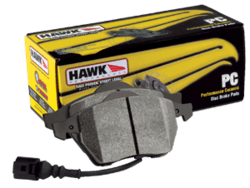 HPS - High Performance Street disc brake pads are world renowned for increasing stopping power on your street legal vehicle. Increasing the performance of your vehicles braking system is easy when you choose Hawk Performance's HPS braking compound.
This unique Ferro-Carbon formula was developed for street performance using the safety and quality of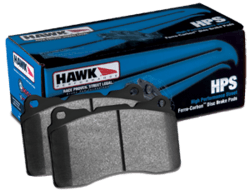 aerospace and motor sports severe-duty friction technology.
The High Performance Street compound offers a higher coefficient of friction over stock brake pads and can provide you 20-40% more stopping power and higher resistance to brake fade than most standard replacement pads. Less fade means you will have a highly durable brake pad with less brake dust.
EBC Green Stuff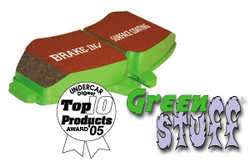 Designed for premium street driving offering better brake effect up to 600°C (1100°F). EBC Greenstuff has a high initial brake effect and gives drivers confidence from first application of the brake pedal. There is no such thing as a NO DUST pad. The very nature of how a brake works requires that some dust be generated to avoid rotor vibration (shimmying). The EBC pad creates less dust and dust is more easily washed off than most. All pads create more dust as they are bedding in especially if rotors are worn.. For heavier faster cars and vehicles above 200bhp we strongly recommend Redstuff which DOES offer much less dust.
Since EBC Brakes launched its sport range in 1997 EBC Greenstuff has sold well over 3 million sets of performance automotive brakes all over the world and has become the number one selling EBC sport pad.
Appreciated by drivers of cars up to 200 BHP year 2009 sees the launch of the 9th version
 of EBC 2000 series Greenstuff which has once again pushed the performance barriers of organic friction materials. The latest version of Greenstuff is a deliberately softer compound to improve pedal feel on lighter cars at lower speeds. This resulted in a medium dust material with good lifetime and minimal rotor wear.
Many drivers of lighters cars and kit cars have used Greenstuff 2000 series with success in race use and tests at the UK MIRA Motor Vehicle Research Institute have shown a version of Greenstuff to stop a car almost 20 feet quicker than original parts on a popular hot hatch braking from 100 KPH offering a huge 15% brake improvement.
EBC Red Stuff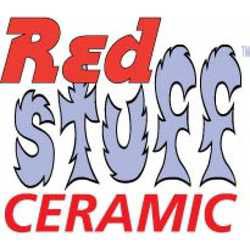 There are TWO reasons our customers love Redstuff, First because they are the lowest dust pad we have encountered by reducing dust by 60-90%. Plus the minimal dust you see is very easily removed with a simple sponge wash as it contains no steel fibre particles as in ALL OTHER pads. Second they brake like an alligator right from cold (as good as Original pads or better) and just get better as they heat up.
This material is a Kevlar® fibre based brake compound enhanced with ceramic particles. If you have previously tried EBC redstuff (pre-ceramic compound) this material is light years ahead. It lasts longer, it brakes better and is quieter.
Being a hard wearing pad, bed-in times can be as long as 1,600 kilometres and drivers must be patient until the pad takes up the shape of their disc (brake rotor). This is a truly impressive fast road pad for repeated heavy braking.
 It emits far less dust than semi-metallic pads and has been proven to stop a passenger car/sedan/sport compact/hot hatch 13 metres quicker than OEM pads from 160kph. Features EBC Brake-In surface coating which conditions rotor surface and accelerates pad bed-in. Nominal  Friction coefficient 0.5 with approx. 50% dust reduction.
As EBC's flagship street brake pad material for prestige and faster cars above 200BHP the 09 version on EBC Redstuff sets new standards in brake performance. Redstuff has always been known for its low dust ability but the latest blend has greatly reduced the phenomenon of pad "Pick up" or disc scoring and reduced dust even further.  EBC Redstuff should be used at both front and rear for optimum balanced brake performance.
EBC Yellow Stuff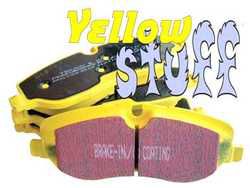 EBC Yellow Stuff is an Aramid fibre based brake compound with high brake effect form cold and is possibly one of the first ever compounds that can be used for STREET AND TRACK DRIVING. These pads do not require warm up but do get even stronger under the heat of hard driving. These are not a low dust pad and if your desire is for a low dust premium street use pad, you should consider EBC Redstuff. EBC Yellowstuff is currently produced in two compound versions - DM1846 and DM1793, both of which have been used with some success in racing. HOWEVER, for standard OEM brakes, as fitted to your car, there is no doubt that the DM1793 is getting better feedback, as it is slightly harder, slightly longer lasting and more appropriate for track day driving.
If using a high efficiency aftermarket race caliper with 4, 6 or 8 piston set ups, the sheer efficiency might allow the use of 1846 compound. DM1846 is currently the choice of the majority of GT3 drivers which are pretty serious competitors.
If you have any doubts about which compound to choose for your street and track combination pad, go for the 1793.
The grippiest pad in the EBC arsenal EBC Yellowstuff is a high friction pad for the driver who wants nothing but performance brakes.
 Not only a high friction pad but very resistant to heat and loads of heavy braking means that Yellowstuff has been used with great success in race cars and on high speed road vehicles alike.
Because of its huge heat range , the applications where EBC Yellowstuff will deliver benefits range from fastest street use on higher horsepower sedans to Track day and Race use on most street based cars and even as a brake upgrade on Trucks and SUV.
EBC Blue Stuff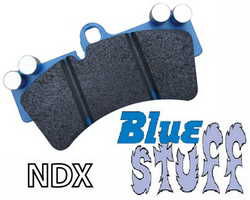 For several years EBC Brakes has been developing its full race pads for cars called Bluestuff and after a final modification in 2009 is preparing to release this material known as Formula NDX in time for the 2010 season.
The NDX Formula is a harder and longer lasting pad than its stable mate the Yellowstuff compound and has been very successfully run on heavier cars including the Holden Monaro which weighs in at over 3600 lbs ( almost 1.7 tons) and as such is a much better test of the typical  race car.
Whilst EBC Brakes Yellowstuff has worked out very well in Europe on Track day and short even closed circuit racing, its high friction characteristics cause it to wear quite quickly on heavier cars and longer races, making the Blue NDX grade the ideal upgrade.