Oils, Fluids & Sealants
Penrite Oil, Coolant & Additives
Better Brakes & Advanced Auto Parts are a premium stockist of Penrite oils, coolant and additives.
HPR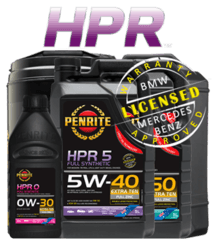 Penrite HPR premium quality engine oils are the ultimate performance range of engine lubricants designed for Australian conditions.
The Penrite HPR range has been engineered with a unique DOUBLE LAYER of engine protecton with FULL ZINC and Penrite's advanced EXTRA TEN technology
The Penrite HPR range has been developed for use in vehicles from modern compact multi valved family cars through to high performance super cars, racing & competition machines, 4WD's, SUV's, light & heavy commercials and motor cycles.
10 TENTHS RACING OIL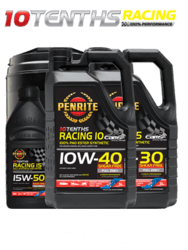 Penrite 10 Tenths Racing Oils are high performance, premium 100% PAO (Group 4) and Ester (Group 5) full synthetic engine oils that provide the ultimate protection in on road and competition applications.
10 Tenths Racing Oils contain an anti-wear package of *FULL ZINC + (exceeding 2200+ ppm levels) for ultimate engine wear protection.
10 Tenths Racing Oils can be used in naturally aspirated, supercharged and turbocharged engines. They are also suitable for use with exotic fuel types such as racing fuel, avgas, methanol, alcohol and ethanol blends such as E10 & E85.
Note: When using E85 fuel for non-competition use we recommend more frequent oil servicing.
ENVIRO +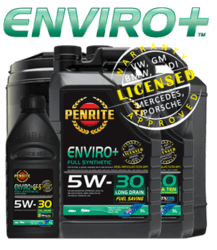 Enviro + engine oils are a range of highly advanced, full synthetic low & mid SAP engine oils that have been developed for late model fuel efficient passenger, light & heavy duty vehicles including those fitted with long life catalysts such as Diesel Particulate Filter's (DPF's). The Enviro + range has been developed to provide long lasting protection for vehicles with extended oil drain intervals as well as providing OEM approved products to satisfy new vehicle warranty requirements. The range covers petrol, E85 and diesel fuel types.
EVERYDAY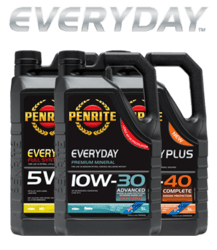 Penrite "Everyday" engine oils are premium quality Full Synthetic, Semi Synthetic & Mineral engine lubricants developed to meet the demands of everyday driving in modern passenger car, light and heavy commercial vehicles. The range covers ideal viscosity ranges for everyday driving conditions as well as the latest industry specifications as demanded by modern vehicle manufacturers to meet their requirements including extended oil drain periods.
PENRITE COOLANT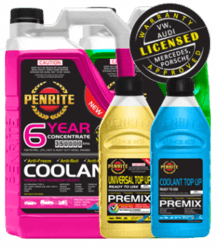 Penrites premium range of OEM approved Coolants & Inhibitors, cover most vehicles on the road today. As with engine oils, different vehicle manufacturers specify different types of engine coolants and inhibitors for their vehicles. Therefore, the correct engine cooling product for your vehicle is critical in maintaining its performance and longevity as well as preserving your vehicles manufacturer warranty. Penrite coolants are suitable for Passenger Cars, Commercial Vehicles, 4WDs, Heavy Duty Vehicles, Motorcycles, Marine, Racing, Veteran & Vintage and many more.
ADDITIVES
Penrite's new additive range has been designed to enhance durability, reliability, economy and performance. At Penrite we believe in setting the standard, so like all Penrite products, our new additive range offers real benefits and improved performance from industry firsts that are unique in the market place.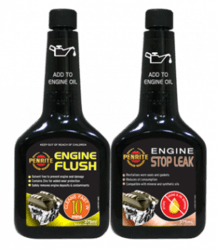 Engine Flush is a fast acting, solvent free, engine cleaning formulation that removes engine deposits, contaminants and sludge with the oil drain. It contains zinc for added wear protection and being solvent free, will not harm seals or gaskets.
Engine Stop Leak has been specifically formulated to control engine oil leaks due to deteriorated or worn seals and gaskets including the Rear Main. It is compatible with mineral, semi and synthetic oil types.
Petrol Injector Cleaner not only clears blocked fuel injectors and carburettors in one tankful but also
 increases fuel economy by up to 2.4% whilst increasing power by up to 2.6% in unleaded and E10 fuels.
Octane Booster will increase the RON octane level number of regular
 unleaded petrol by up to 2.5 providing increased power, performance,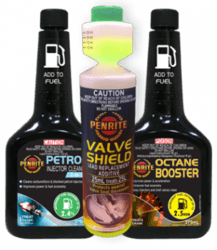 fuel economy and smoother idling.
Valveshield is an unleaded petrol treatment formulated for vehicles originally designed and manufactured to run on leaded fuel. It protects these engines against valve seat recession (VSR) using current unleaded fuels. Valveshield is formulated for use in petrol engines in motorcycles, cars, 4WDs, light commercial vehicles and stationary engines that required leaded fuel.
Upper Cylinder & LPG Lubricant (UCL) is a fuel treatment that protects against valve seat recession, lubricates the fuel delivery system and maintains cleanliness of fuel injectors and carburettor jets.
 It is suitable for use in leaded, unleaded, E10, LPG or dual fuel. If LPG is the primary fuel, UCL may
 be added through dripper systems @ 4-5 drops per minute. UCL is safe for use with catalytic
 converters and Oxygen sensors.
NEW - ENVIRO+ DPF CLEANER is the first DUAL ACTION DPF Cleaner and maintenance product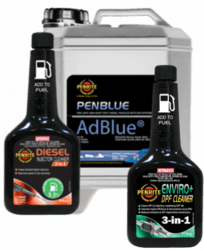 available in the aftermarket. This technically superior product uses both Cerium & Platinum to lower the burning temperature of exhaust soot and improve the regeneration abilities of the DPF (Diesel Particulate Filter). It carries over 200 world wide patents and it is exclusive to Penrite.
Diesel Fuel Treatment is a diesel fuel additive containing a combination of effective ingredients to clean, lubricate and protect fuel system components and improve fuel economy. It provides effective anti-corrosion properties and contains a demulsifier to separate water. It also contains a Biocide to kill microorganisms in diesel fuel and prevent their growth.
Diesel Injector Cleaner not only clears blocked injectors in one tankful, but the new formulation also conditions the diesel fuel and provides up to a 2.5% increase in fuel economy.
Penblue has been specifically formulated for trucks that must meet Euro 4 and Euro 5 emissions standards. These vehicles have SCR (Selective Catalytic Reduction) systems fitted and must use a Urea based fuel additive to assist in achieving these requirements.
Sealants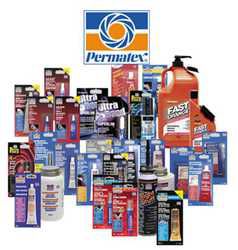 Available through Better Brakes & Advanced Auto Parts is a full range of PERMATEX products. We currently stock the following Permatex Product ranges:
Gasket Makers

Threadlocks

Sealants

Adhesives

Speciality lubricants

Cleaners

Hand Protection
Permatex is a leading manufacturer, distributor and marketer of premium chemical products to the automotive maintenance and repair markets. The Company, which sold its first product in 1909, is a recognized leader in the introduction of new products and services in the automotive aftermarket.
Behind Permatex's products is the understanding that customer's needs are our primary interest. A market-driven mentality makes Permatex a leading edge supplier of innovative products that meets the needs of automotive enthusiasts, professional technicians and industries alike.
Innovation through research and development is a Permatex hallmark. They continually enhance their capabilities at laboratories and facilities to provide our customers with a constant flow of new and improved products.