Drive Belts
BOSCH BELTS
Bosch has one of the largest ranges of automotive belts available.
The range covers Australian, Asian and European applications. Pre stretched polyester tension cords, fibre reinforced belt back and stranded glass fibretension cords ensure low maintenance and lateral stiffness, resulting on protection against engine damage
Bosch Raw-Edge Cogged Belt (V-Belt)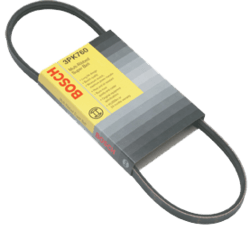 Replaces all belt types: wrapped belts, raw-edge plain belts as well as cogged belts.

Longer service life - Up to three times that of wrapped belts

Made to original equipment specifications

Runs more quietly

40,000 km / 24 Month Warranty

Internal cogged construction minimises bending energy loss and ensures maximum torque transmission

High tensile cord construction gives longer service life

Highest level of protection from engine damage
Bosch Multi-Ribbed Belt
Made to original equipment specification

Long life design

Heat, oil and crack resistant

Engineered for better flexibility and less heat build up resulting in longer life and superior operational efficiency

Its high flexibility and efficiency in power transfer makes it ideally suited for serpentine drives

Highly resistant to abrasions, oil, grease, water and UV radiation.