Clutch Kits
Exedy Clutch
OEM Replacement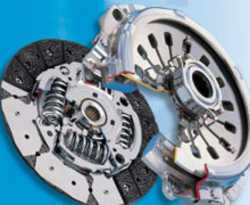 Standard OEM replacement kits include the highest quality cover assemblies, clutch discs, and release bearings packaged in the distinctive EXEDY silver and blue kit box. With advanced dampening mechanisms, premium quality friction facings, and high quality cover assemblies, EXEDY clutch kits guarantee correct fit and function every time.
Sports Tuff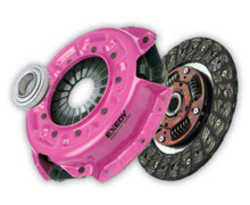 The Heavy Duty clutch kits are perfectly suited for use in lightly modified vehicles or vehicles carrying loads used for daily driving or in amateur motor sports activities. A high performance clutch cover with increased clamp load which will transmit an increase in engine torque is included in these kits with an organic clutch disc creating a performance clutch kit with smooth take off drivability.
Heavy Duty Cushion Button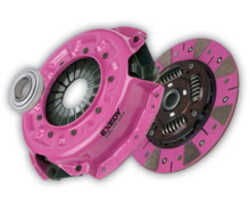 Our Heavy Duty Cushion Button clutch kits are recommended for use in moderately tuned vehicles that are driven on a daily basis. This product utilises the positive aspects of an extremely durable ceramic material which has the capacity to transmit increased engine torque while maintaining a relatively comfortable engagement feeling attributed to the unique process of attaching the ceramic material to the clutch disc segment or marcel. To complement these unique clutch discs, the clutch kits are also supplied with high performance clutch cover assemblies with increased clamp loads.
Heavy Duty Button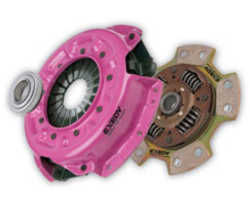 The Heavy Duty Button clutch kits are manufactured to meet the demands of various forms of amateur drift, circuit, rally and drag racing and are assembled from 100% new component parts.  All kits are supplied with high clamp load clutch cover assemblies and ceramic button clutch discs with sprung dampers.
Safari Tuff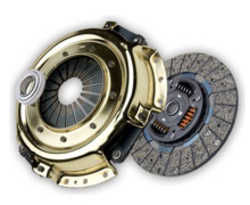 The EXEDY Safari Tuff Clutch Kit comprises a purpose engineered cover assembly which boasts a minimum 25% increase in clamp load in comparison to standard. The cover assembly also features an anodized cover pressing to limit corrosion, spheroidal graphite anti burst pressure plate casting and additional drive straps. 
The Safari Tuff Kit also comprises a high quality clutch disc which has upgraded damper springs and premium grade friction materials.
The Safari Tuff range has been designed by EXEDY in one of the world's most comprehensive facilities and extensively tested in some of the toughest four wheel drive races in the world by champions in the Australian Safari, Malaysian Rainforest Challenge and the Xtreme Winch Challenge.
Racing Clutch
Single Sports Series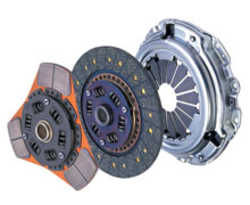 Stage 1 in the Single Sports Series comprises an EXEDY sports cover assembly, Sports Organic (SO) clutch disc and release bearing. The sports cover assembly boasts higher clamp loads, spheroidal graphite pressure plate castings and additional drive straps are utilised to prevent pressure plate casting failure at high RPM. The Sports Organic disc features a premium friction material for superior durability and engagement characteristics as well as high rate damper springs to handle increased torque.
Stage 2 in the Single Sports Series comprises an EXEDY sports cover assembly and either a Race Ceramic (RC) or a Sports Ceramic (SC) Disc. The sports cover assembly boasts higher clamp loads, spheroidal graphite pressure plate castings and additional drive straps are utilized to prevent pressure plate casting failure at high RPM. The Race Ceramic disc features a unique metal button configuration designed specifically for circuit racing applications. The disc also features a thinner design profile resulting in lower inertia and therefore reduced shift effort. The Race Ceramic disc is made from lightweight components helping to reduce wear and tear on the transmission synchromesh. The Sports Ceramic disc possesses many of the Race Ceramic disc features and has been specifically developed for use by professional drift, circuit, rally and drag racers.
Hyper Metal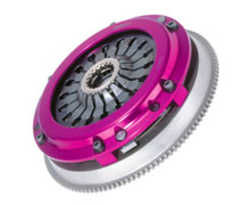 The Hyper Metal Series is next generation clutch technology. It is available in single, twin and triple plate configurations for both push and pull type clutch systems, the Hyper Metal Series incorporates compact and lightweight designs for improved engagement, shift and engine response whilst maintaining driveability. The EXEDY range includes Hyper Metal Series products for Japanese, European and V8 Commodore and Falcon sports applications.
Hyper Carbon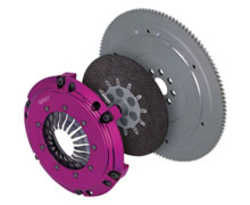 The Hyper Carbon Series is the ultimate in clutch technology and was originally designed and produced for the ultimate in motor sports – Formula 1. EXEDY has released its carbon clutch technology to the wider market for both street and track use. Like never before, the Hyper Carbon series system delivers easy and comfortable clutch operation in high horsepower applications as the carbon material is less prone to shudder on engagement making it an ideal clutch system for use in vehicles driven daily.
Racing Flywheel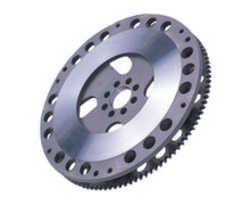 EXEDY racing flywheels are made from solid one-piece forged chrome moly steel. They are specifically designed to reduce weight and inertia for improved engine response. Most flywheels incorporate special design features to enhance the air flow to improve the cooling of the clutch system. EXEDY forged chrome moly steel flywheels are guaranteed burst-proof to 16,000rpm.