Steering & Suspension
Steering Components
Better Brakes & Advanced Auto Parts offers a comprehensive STEERING Component program. Protex components make up our new range resulting in exceptional application coverage.
Ball Joints

Tie Rod Ends

Idler Arms

Drag Link

Centre Rod

Pitman Arm

Rack End
Suspension Bushes
Better Brakes & Advanced Auto Parts distribute the complete range of Nolathane suspension components.
Nolathane specialises in the design and manufacture of superior suspension systems for passenger, 4 wheel drives, commercial and performance vehicles.
"Want to handle it- Nolathane it"
Nolathane suspension bushes synchronise your suspension system for optimal safety, handling and performance. They are the most positive link between your vehicle's springs, struts or shocks.
Nolathane offers alignment correction and adjustment via offset bushes, shims, eccentric centre tubes and adjustable strut mounts.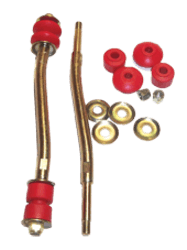 Unlike soft rubber bushes, which distort under heavy braking or cornering loads, Nolathane bushes maintain alignment settings and offer complete reliability.
Improved handling

Crisp steering response

Boosted braking accuracy & control

Prolonged life of suspension bushes and tyres
Springs
KING SPRINGS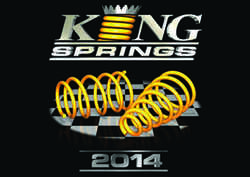 Better Brakes & Advanced Auto Parts are pleased to announce the addition of King Springs to their list of quality aftermarket products. All popular vehicles including 4WD are covered by the extensive range.
King Springs are respected for their quality and performance. When it comes to spring design and durability King Springs knows neither compromise nor second best. They have achieved this top position from working on the streets, at the race tracks and over the toughest outback terrain there is.
 Locally designed, developed and made, the company uses high quality, high stress X5K spring steel. This X5K steel reduces the amount of steel required per spring and makes each spring approximately 30% lighter. This is matched by the hi-tech manufacturing process which ensures correct load as well as accurate diameter and height.
Shock Absorbers
GABRIEL SHOCK ABSORBERS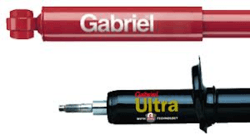 SHOCK ABSORBER INNOVATION JUST HIT ANOTHER MILESTONE.
Here's why you didn't even feel it.
Presenting the new ULTRA line of shock absorbers and struts featuring G-Force technology from Gabriel. This technology is the coming together of countless man-hours and rigorous testing to create a shock absorber that doesn't just react, but actually thinks, leaving you with a shock absorber guaranteed to deliver the ultimate in safety, response and long-lasting performance.
ULTRA products are precision engineered for the ultimate in safety and performance.
G-Force technology includes:
Stable Steer Valving - Provides consistent response from all corners, giving you the most stable, safest ride
G-Force Piston - Bonded iron construction for durability and longer life
Leak-Proof Piston Seal - Eliminates oil by-pass for maximum shock effectiveness and performance
Features and Benefits
Infinitely variable damping for on demand control for all road conditions

G-Force technology for quicker response, improved product life and consistent, reliable ride control

Stable Steer valving provides improved tire contact with the road for control, safety, and performance

1 3/8" bore piston (in most applications) with bonded iron construction for  durability and longer life

Leak-proof piston seal and rod guide eliminates oil bypass

Orifice control disk with variable nine stage valving provides consistent oil flow

OE designed single lip oil seal minimizes friction for optimal sealing

Super finished chromed piston rod provides superior corrosion resistance and enhanced seal properties

Larger, bulged tube (in most applications) aids in cooling
MONROE SHOCK ABSORBERS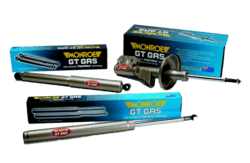 It is Monroe's passion for developing technology that results in safer driving and that has made Monroe the preferred brand of shock absorbers.
By continuing to develop new solutions and improved products, Monroe reinforces their commitment to technology driven safety. 
In doing so, Monroe believe their products give motorists the confidence and control to travel safely, enjoy their journey and just drive.